Honolulu Property Management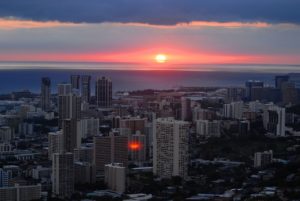 Famous around the globe for its beautiful beaches, rich history, and diverse culture, Honolulu is one of the most incredible destinations in the United States.The capital city sits on Oahu, one of the eight Hawaiian islands. Often associated with the tourism industry, Honolulu draws in nearly nine million visitors annually.
With a metro population of close to one million people, this thriving metropolis is also an epicenter of international business. Many well-known corporations are headquartered here, including Hawaiian Airlines and the Bank of Hawaii. The state's government is also seated in Honolulu. Furthermore, thanks to its location in the North Pacific, Honolulu is a hub of shipping and military activity.
Explore the City of Honolulu
Hawaii became the 50th state in 1959, but the history of this sensational group of islands goes back several centuries. From the arrival of the first Polynesian migrants to the overthrowing of the monarchy and subsequent annexation by the United States, Honolulu has undergone numerous evolutions as part of the Hawaiian islands. Today, Honolulu offers residents unparalleled quality of life, with world class cultural institutions, shopping destinations, and entertainment venues scattered across the city.
Honolulu is broken into several different neighborhoods and districts. Some of the best known areas of the capital city include Waikīkī, Kakaʻako, and the Arts District. The city is home to a large number of servicemen and women, with multiple military installations on the island of Oahu. This city also attracts a large student population, thanks to the presence of schools like the University of Hawaii at Manoa and Hawaii Pacific University.
Investing in Honolulu Rentals
Housing prices in Honolulu are among the highest in the nation, thanks to high demand and a limited supply. Not only are Honolulu rentals the second most expensive in the United States, but the city is also one of the most densely populated. According to research conducted by the Department of Business, Economic Development & Tourism, housing demand will continue growing in the next decade. Naturally, this makes Honolulu apartments and rental homes attractive investment opportunities.
Of course, turning a profit in an Oahu rental is no small feat. Managing the needs of a rental home can quickly become a full-time job, which is why many property owners turn to a professional property manager in Honolulu.
Working with HappyDoors Property Management
If you're on the hunt for the right property managers, why not consider HappyDoors? Our team of local experts has been partnering with Hawaii investors for over a decade and we know what it takes to get great results. We monitor the ups and downs of Honolulu's real estate market, and we continually make suggestions for improving your profitability.
Call us today to schedule a free rental analysis and learn how we can help you maximize the value of your property.
Ready to get started? Call us: (808) 800-4152
Professional solutions for your property needs
Learn what makes us the perfect choice for your rental
We Keep an Open Line of Communication
We understand that you want to stay informed and we have systems in place to help answer your questions. We return phone calls and emails and we're always happy to schedule face-to-face meetings.
You Won't Find Better Legal Experts
Gain peace of mind and keep yourself out of trouble. Our legal team pays attention to the assortment of federal laws and local ordinances that impact your property while taking steps to protect your asset.
Integrity and Honesty are Top Priorities for Us
We are determined to help every one of our clients to meet their investment goals, and we don't use hidden fees or costs to pad our earnings. We believe the best management relationships are built on a foundation of mutual trust.
Our Experience Makes all the Difference
Use our knowledge and experience to get the most out of your residential home. With over 10 years of experience, we've already helped countless property owners get more out of their rentals and would love to do the same for you.
Property Owners Love Our Team
You can't argue with our results.
"Highly professional, very friendly, and always looking out for my best interest. Renters are properly vetted, repairs quickly brought to my attention and resolved as quickly as possible and at a very reasonable cost."
 - Mitch D., Satisfied Client

"Reliable, thorough, and communicative. I hired (HappyDoors) remotely & the process was fast and painless. After I fired my old property manager, Brent swooped in & resolved years worth of problems in weeks, and my tenant is extremely satisfied."
 - Chris M., Satisfied Client
Honolulu's Local Property Management Experts
We know Hawaiian real estate.
If you own rentals in Honolulu, you understand the importance of partnering with a qualified property manager. With a professional on your side, you can say goodbye to the hassle of the DIY approach, once and for all. Of course, finding the right management company for your unit can prove tricky. Plenty of property managers make big promises about generating long term results & keeping your home in great shape, but few are able to actual deliver on their commitments.
At HappyDoors Property Management, we aim to provide the best property management in Honolulu. We do that by treating our clients like bonafide business partners. From monitoring the local market to pinpointing potential areas of growth for your portfolio, we're not content with the status quo. Whether you own a home in Hawaii Kai, Kapolei, Mililani, Kailua, or Kaneohe, our experienced property management experts are ready to help you succeed.
Start a Conversation with Us
Learn how our flexible management solutions can help you: (808) 800-4152