Property Management in Honolulu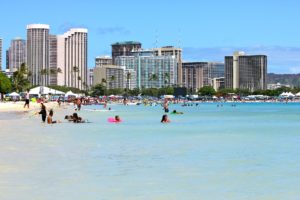 Honolulu is the largest city on the island of Oahu and the capital of the state of Hawaii. This historic community is not only one of the most popular tourists destinations in the United States, but it's also an important center of economic activity in the Pacific Ocean. Nearly one million people call Metro Honolulu home.
From the undeniable beauty of Waikīkī to the buzz of political activity in the Capitol District, Honolulu is a city unlike any other. With several miles of jaw-dropping beaches, world class shopping centers, and some of the best cuisine in the world, it's no wonder that Honolulu continues to attract new residents. In fact, the city has seen its population climb by nearly seven percent in the new millennium.
Living in Honolulu, Hawaii
Calling Honolulu home comes with a number of unique advantages, with access to incredible museums and historic sites, as well as a number of local landmarks and points of interest. A few of Honolulu's many attractions include the Honolulu Zoo, the Waikiki Aquarium, and the Honolulu Museum of Art.
Residential neighborhoods are scattered across the city, with an assortment of low income housing options, single family homes, and luxury properties. Areas like Manoa and Makiki are home to older Honolulu rentals and small condominiums, whereas Kāhala and many portions of East Honolulu offer exclusive gated communities with large mansions and sprawling estates.
Investing in Honolulu Real Estate
As Honolulu has seen its population grow, the housing market has grown to become one of the most expensive in the United States. Honolulu has a large number of rental units, thanks to its heavy military presence and many local universities. Rentals are also a more affordable option for residents who can't afford to purchase homes. Naturally, for investors in the city, this environment has the potential to generate longterm returns on rental home purchases.
Maximizing a property's earning potential is no small feat, however. Many property owners ultimately turn to a professional property manager in Honolulu. With the right manager on your side, everything from finding a qualified tenant to handling ongoing maintenance and accounting needs will be taken care of for you.
At HappyDoors Property Management, we've already helped countless local investors get more out of their residential portfolios. Our team has been serving the community for over 10 years and we know what it takes to get the best results for our clients. Learn how we can help today by scheduling a free rental consultation.
Call us to get started: (808) 800-4152
Professional solutions for your property needs
Learn what makes us the perfect choice for your rental
We Keep an Open Line of Communication
We understand that you want to stay informed and we have systems in place to help answer your questions. We return phone calls and emails and we're always happy to schedule face-to-face meetings.
You Won't Find Better Legal Experts
Gain peace of mind and keep yourself out of trouble. Our legal team pays attention to the assortment of federal laws and local ordinances that impact your property while taking steps to protect your asset.
Integrity and Honesty are Top Priorities for Us
We are determined to help every one of our clients to meet their investment goals, and we don't use hidden fees or costs to pad our earnings. We believe the best management relationships are built on a foundation of mutual trust.
Our Experience Makes all the Difference
Use our knowledge and experience to get the most out of your residential home. With over 10 years of experience, we've already helped countless property owners get more out of their rentals and would love to do the same for you.
Property Owners Love Our Team
You can't argue with our results.
"Highly professional, very friendly, and always looking out for my best interest. Renters are properly vetted, repairs quickly brought to my attention and resolved as quickly as possible and at a very reasonable cost."
 - Mitch D., Satisfied Client

"Reliable, thorough, and communicative. I hired (HappyDoors) remotely & the process was fast and painless. After I fired my old property manager, Brent swooped in & resolved years worth of problems in weeks, and my tenant is extremely satisfied."
 - Chris M., Satisfied Client
Honolulu's Local Property Management Experts
We know Hawaiian real estate.
If you own rentals in Honolulu, you understand the importance of partnering with a qualified property manager. With a professional on your side, you can say goodbye to the hassle of the DIY approach, once and for all. Of course, finding the right management company for your unit can prove tricky. Plenty of property managers make big promises about generating long term results & keeping your home in great shape, but few are able to actual deliver on their commitments.
At HappyDoors Property Management, we aim to provide the best property management in Honolulu. We do that by treating our clients like bonafide business partners. From monitoring the local market to pinpointing potential areas of growth for your portfolio, we're not content with the status quo. Whether you own a home in Hawaii Kai, Kapolei, Mililani, Kailua, or Kaneohe, our experienced property management experts are ready to help you succeed.
Start a Conversation with Us
Learn how our flexible management solutions can help you: (808) 800-4152