Why Owners Should Rent Their Honolulu Property Instead of Leaving it Vacant
When you have a Honolulu property that you're not currently using and you don't want to sell, it's a good idea to rent it out. Renting your property can result in extra income, long term ROI, and possibly lower your liability. If you choose to leave your property vacant, you run the risk of deterioration, neglect, and possible damage to your unit or others.

If you're worried about taking care of the home, don't be. You can hire a professional Honolulu property management company to find you a tenant, preserve the condition of the asset, and return it to you when you're ready to sell, inhabit, or do something else with the investment.

Monthly Rental Income and Long Term ROI
The Honolulu rental market is strong. There are many qualified tenants to choose from. If you have a loan, monthly association dues, insurance or property tax payments, your rental income can go towards paying those expenses. This will increase the return you earn on your investment, and provide you with some cash flow on a consistent basis.

When you have good tenants in place, you'll be able to collect regular rent, pay down your mortgage, and ensure your property is competitive on the rental market. A vacant home doesn't earn you any money. In fact, it costs you money when calculating how much you pay in taxes, insurance, and any association fees.

Maintenance Issues Need Attention
A vacant property is prone to have a lot of deferred maintenance. When you have a tenant in place, there is someone to notice when things are broken or in bad shape. You'll be able to respond quickly, and make the fixes that are essential to preserving the condition of the home and keeping it well-maintained. Necessary repairs that are ignored or undiscovered will only become more expensive and challenging if not taken care of right away. For example, a simple leak under a sink can become a leak can grow, become larger, and lead to mold, damage to your cabinets, and possible leak into neighboring units. With a tenant at your home, the leak will be noticed sooner and reported early enough to help keep the repair cost low.

By renting your property to tenants, you'll also have someone to sound the alarm if there's a maintenance emergency at the property. If strong winds knock over a fence or part of the roof has blown off, your tenant will contact you. If the home is left vacant, it could be awhile before you realize something catastrophic has occurred at your property.

Property Managers Make Renting Profitable
Managing a rental property takes a lot of work and requires a lot of knowledge. It's no wonder that owners hesitate before listing their property on the rental market. However, with a strong property management company, you won't have to worry about the details or the headaches. Your property manager will advertise and market your home, show the property, screen tenants, and take care of maintenance.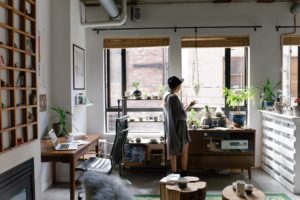 With a good property manager on your side, you'll be able to earn rent and have a high quality tenants while avoiding costly vacancy and turnover periods. You'll pay less for maintenance and lower your liability.
It makes financial sense to rent out your property. Instead of leaving it vacancy, get a good tenant in place who can take care of the home and pay rent consistently. If you'd like any help with this, please do not hesitate to contact us at HappyDoors Property Management.