Why Honolulu Real Estate Professionals Should Send Referrals to HappyDoors Property Management
At HappyDoors Property Management, we work closely with real estate agents to keep their clients happy and their clients' properties protected. If you're a Realtor working with property owners who decide that renting out a home makes more sense than selling it, we hope you'll consider referring that owner to our talented and qualified property management team.

Why Refer Your Clients to HappyDoors
Honolulu property management requires an expert who understands leasing, maintenance, rental accounting, and the local, state, and federal laws that apply to landlords and tenants. We understand the Hawaii Landlord – Tenant Code, and we know how to protect your client's asset while earning them more income and ROI.

As a real estate agent, you have your own set of skills and talents. These are much different from what's required to effectively manage a property, so we'd be happy to step in and help you serve your clients better. When you refer your clients to us for property management, you can focus on what you do best – buying and selling real estate.

When you work with a professional property management company, you can deliver some outstanding results to your clients. They will enjoy peace of mind knowing that their property manager will:

Accurately and competitively price their property.
Market the home aggressively to minimize vacancy times and gain exposure for their listing.
Handle showings and applications.
Screen tenants thoroughly to find a renter with a history of paying on time.
Inspect and maintain the property to ensure its condition is protected.
Collect rent and enforce the lease.
Handle move-in and move-out processes, including security deposit collection and disbursement.
Keeping Your Best Customers
By partnering with us, we'll help you hold onto your best real estate customers. We work closely with your clients while their property is in our care, and we send those clients right back to you when they're ready to sell their investment or buy something else. At HappyDoors, we focus completely on managing your client's property. You'll get a detailed contract that protects your business relationships and creates trust between all parties. We want to create an outstanding rental experience for your clients, for you, and for the tenants we ultimately place.

At HappyDoors, we'll make you look good. Your clients' homes will be managed to perfection, and your clients will be satisfied that you turned their investment property over to our capable team.

How the HappyDoors Referral Program Works
We show our real estate partners how much we appreciate their referrals by paying a generous referral fee. You'll receive money for every client you send us, once they sign a property management contract with our firm. Provide us with some basic information about you, and we'll get in touch to talk about your client, your client's property, and the things we can do to ensure they earn more and spend less on their investment property.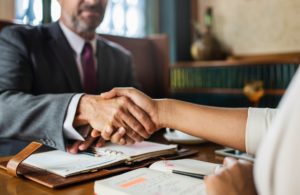 We have found this partnership works especially well when you have clients who cannot sell their home for the price they want, or when they're still deciding what to do with a property that they're no longer living in.
Contact us at HappyDoors Property Management, and we'd be delighted to tell you more about our Realtor Referral Program.